Submitted by

Marije

on Wed, 2010-03-17 16:39
Have you ever played the game hearsay with some friends on the schoolyard? You start a story, or maybe a sentence, and whisper it in the ear of the person who stands next to you. That person whispers the same message, or so you hope, to the person next to him. This continues till the last person has received the message. He or she gets the honor to say the message out loud. This moment is always tense, all the children will look with an anticipating face to the last child. What will the message contain? Will it be same as the original one? Of course not. That is the reason why this game is so hilarious.

Now you become older, you leave the playground behind. You are a little nerdy, you purchased your first computer in 1976. You create 'things', electronic objects with complex behavior. We arrive in the eighties. It is the time of satellites, networks, surveillance.What would you create as a forty-eight year old guy?

Of course: Hearsay!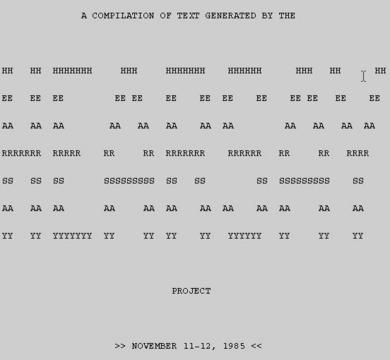 Hearsay (1985) was a telecommunications event based upon the children's game... In this case a message was sent around the world in 24 hours, roughly following the sun, via a global computer network (I. P. Sharp Associates). Each of the eight participating centres was charged with translating the message into a different language before sending it on. The whole process was monitored at Toronto's A-Space."[1]

The text used was from Robert Zend's poem, "The Message" dedicated to media theorist Marshall McLuhan.  This choice is appropriate for Hearsay because, in McLuhan's immortal words, "the medium is the message."  The end of the original text ends with:

"YOUR MAJESTY, I AM NOT WAITING FOR A REPLY BECAUSE THERE IS NO MESSAGE BECAUSE NO ONE SENT ME. I JUST LIKE RUNNING." [2]

24 hours and eight translations later the ending has changed to:

"YOUR MAJESTY, THERE IS NO NEED FOR AN ANSWER. AFTER ALL, NOTHING HAS HAPPENED. NO ONE SENT ME. I RISE ABOVE EVERYTHING." [2]

It is kind of the same, but not really.The project of White had an important role for the element of chance. It was certain that the last message would be different than the first, but how different and what kind of changes it would have was unknown. The project was in a way unpredictable. Another project of Norman White also dealt with a unpredictable result. Telephonic Arm Wrestling (1986) created together with Doug Back had more ominous implications.

'One of the earliest works of telerobotic art, Telephonic Arm Wrestling was developed, tongue-in-cheek, as a means for settling the Arms Race between the US and the USSR... White and Back created a force-feedback responsive system artwork for resolving antagonistic relations. Ironically, due to latencies (time-delays) in the telephonic link, the system did not support standard rules of militairy engagement.'

'Under certain circumstances both parties could win at the same time. Which I think is a great way, normally you can have only one winner. But isn't this better and maybe also more true? Every country will always try to represent history in a way that makes them look good. A country will represent them in some way as a winner. Telephonic Arm Wrestling is thereby 'a telling commentary on the Arms race and the apparent opposition of capitalism and communism' [3].

References

[1] http://www.normill.ca/artpage.html

[2] http://www.normill.ca/Text/Hearsay.txt (for the complete text compilation)

[3] Edward Shanken, Art and Electronic Media, p.126