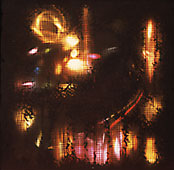 Bu çalışma, sanat ile mühendislik arasındaki sınırı silen karmaşık bir mekanizma olan Malina'nın Système Lumidyne'iyle yapılan ilk resimdir.
Malina, büyük çoğunluğunu 1956-1963 yılları arasında tasarlayıp yaptığı eserlerinde, bu çok yönlü sistemle 100'den fazla işe imza atmıştır.
Sistem ışıklar, motorlar, yarı-şeffaf bir ekran ve genellikle camdan oluşan şeffaf bir levhadan meydana gelir. Motorlarda çeşitli renklere boyanmış, slaytlar, açılar, dönme talimatları ve hızlarda hareketli, genellikle plastik diskler yer alır. Ustlerinde parlak ışık efektleri vermesi için saydam yağlıboya kullanılırken, opak renkler ışığı engellemektedir.
Point Counter-Point'de olduğu gibi diskler muhtemel renk-ışık efektleriyle örtüşebilir ve onları çoğaltabilir. İlk olarak 1955'te paris'te salon des réalités nouvelles'te gösterilen bu çalışma, her ne kadar renk tonu ve ritim aracılığıyla insana dair temsiller de bulunsa bile, yıldızların uzamsal yörüngeleri fikrini temel almıştır. malina 1968'de uluslararası dergi Leonardo'yu kurmuştur.
Frank Manila 1960'larda dinamik ışık formlareını araştıran bir seri sistem geliştirmiştir.
Frank Malina developed a number of systems in the 1960's to explore dynamic lightforms. Lumidyne ve Reflectodyne akrilik diskleri döndürerek ışığın module edilebildiği manipüle edilebilen kinetik heykellerdi. Frank Malina kinetik sanat tarihçisi olarak bilinen bir araştırmacı ve Leonardo bilim ve sanat dergisinin de kurucusuydu.[2]
[1]http://radicalart.info/kinetics/light/index.html
[2]http://mlab.taik.fi/pdf/ma_final_thesis/2005-kaartinen-active-ambience-generator.pdf