Nirvana
Mariko Mori
1996-1997
Cam paneller, akrilik,fiber optik kablo, video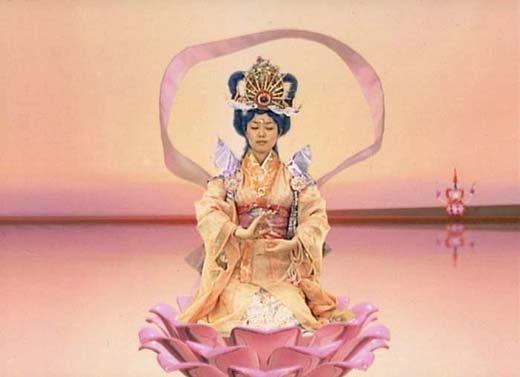 [1]
Japonya'da doğup öğrenimini Londra ve New York'ta tamamlayan Mori, multimedya enstalasyonlarında geleceğe dair tuhaf ütopyacı bakışlar ortaya koymakta Doğu ve Batı felsefelerini harmanlayan bir sanatçıdır. Onun resimleri doğal manzaralarla elektronik manipülasyonları, yarının teknolojisiyle zamana bağlı olmayan tinsel imgeleri birleştirir.
Nirvana'yı oluşturan dört cam-panelli fotoğrafta, mistik varlıklar ve amorf şekiller dünyanın her tarafından seçilmiş gerçekçi manzaraların (Asya ve Arizona'nın çölleri, Fransa'nın mağaraları, İsrail'in Ölüdeniz'i) üstünde dolanmaktadır. Bu öğelerin sakin ifadeleri ve ötedünyasal varlıkları, egzotik ama yine de dünyasal ortamlarıyla zıtlık içindedir. Bir lotus çiçeği üstündeki tanrıçalar olarak ya da alevlerle sarılı halde görülürler. Başka bir yerde Mori'nin kendi resimlerini çoğaltması fütüristik bir kostüm ve perukla izlenebilir. Bu kadınlar, resimlerin adları (Entropy of Love, Burning Desire, Mirror of Water ve Pure Land) arzuya bağlı bu isteklerin karşılanmadığını akla getirmektedir. Bu dört sahne dört kimyasal elemente (hava, ateş, su ve toprak) karşılık gelmektedir. [2]
[1]http://www.marthagarzon.com/contemporary_art/wp-content/uploads/2011/08/mori7.jpg
[2] Shanken, Edward. Sanat ve Elektronik Medya, İstanbul: Akbank, 2012 sf93