[1]
Robot, kamera, internet, gaz fırlatıcı, yazılım
Survival Research Labs'in (SRL) Increasing the Latent Period in a System of Remote Destructibility sinde uzaktan kontrollü silahların teknolojik, siyasal ve toplumsal etkilerini araştıran San Francisco'daki katılımcılar, internet aracılığıyla Tokyo'daki InterCommunication Center'daki (ICC) kablosuz bir robotu kontrol ediyorlardı.
Bu robotun, nesnelere vurabilen hareketli bir kolu ve saldırının sonuçlarını kullanıcıya geri gönderen bir canlı kamerası vardı.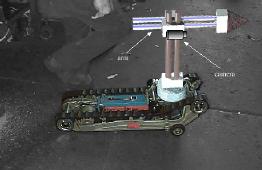 Robotu ICC'deki özel bir panele gönderen uzaktaki kullanıcılar, San Francisco'daki SRL Merkezi'nde bulunan hedefleri yok etmek üzere yüksek basınçlı bir gaz fırlatıcıyı harekete geçirmekteydiler. Robot insanlar tarafından uzaktan kontrol edilmesine rağmen, çalışma, insani ve insani-olmayan hedefler üzerindeki yıkıcı gücü açığa çıkaracak şekilde robotların özerk biçimde hareket edebilecekleri, başka robotlor ve makinelerle iletişim kurabilecekleri bir geleceği model almıştı. SRL'nin çalışması, telerobotların potansiyel tehlikelerini açıkça vurgularken, teknolojik doğruluktan sapmaktadır." [2]
[1] http://www.srl.org/shows/japan/
[2] Shanken, Edward. Sanat ve Elektronik Medya, İstanbul: Akbank, 2012, sf. 159