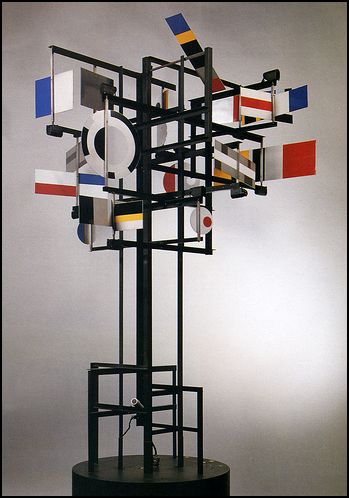 Philips Corporation'ın mühendisleriyle birlikte çalışan Schöffer, robotbilim ve etkileşimli ortam alanlarını kinetik sanat ve konstrüktivizmle birleştiren CYSP 1'i (cybernetic spatiodynamic'in kısaltması) ve başka sibernetik çalışmaları yapmıştı.
Robot- vari heykeller sabit bir kaideye oturtuluyor ve ses, ışık, renk ve hareketteki değişikliklere tepki veren sensörlerle tasarlanıyordu. Bunun sonucunda heykellerde, belirsizlik ilkesini ve ikinci dereceden sibernetiği (ki bunların ikisi de, gözlemleme ediminin gözlemlenen fenomenlerde değişikliğe yol açtığını gösteriyordu) akla getirerek gözlemcilerin varlığına karşı tepkiler de görülüyordu.
Bu kinetik heykeller robotbilim alanında çığır açıcı gelişmelerdi ve sibernetik sanatın ilk örneklerinden sayılıyordu.
CYSP'nin hem formel hem informel (paris sokaklarındaki gibi) sergiler ve performanslar listesinde, 1956'da Sarah Bernhardt Theatre'da (şimdi Paris'te Theatre de la Ville'dir) düzenlenen ilk kamusal temsil ve marsilya'da (Le Corbusier'in Cité Radieuse'ünün çatısında Maurice Béjart'ın bale topluluğuyla dans ettiği) 1. Avangard Festivali'nde de yer almaktaydı.
CYSP 1, ilk büyük bilgisayar sanatı sergisi olan "Digital Visions: Computers and Art"la birlikte Amerika Birleşik Devletleri'ni dolaşmıştı.
The artwork is a cybernetics and space dynamics construction. Its movement is completely autonomous. It has an electronic brain, developed by SA Philips. The 16 polychrome composing plates, driven by small motors, rotate around an eccentric axis. The photocells and microphone are integrated in the sculpture, giving it a life and an organic sensibility: the "Abstract Robot." The "CYSP I" represents the synthesis of sculpture, painting, choreography, music and cinema. The first cybernetic sculpture of art's history.
Source : http://www.scienceandart.info/index.php?option=com_content&view=article&id=143:nicolas-schoffer-cysp-i&catid=57:artworks&Itemid=97